Do you want to refresh your marriage?
Launch a new career?
Improve your mind/body/spirit balance?
A retreat with John and Laura Landgraf – that's us – can give you the perfect jumpstart.
Since 2008, we have helped myriad individuals and couples change or improve their lives. We have helped many people reinvent themselves, or their marriages. We have helped some people end their marriages without rancor or bitterness. We dare to say, nearly everyone we've worked with has left with a better "game plan" for life.
We offer a variety of custom-tailored retreats, for individuals, couples and groups, along the Spokane River near Coeur d'Alene, Idaho – our idyllic home base. Our unique approach is that the two of us, as a team, work with one couple at a time (or, one individual at a time, or, occasionally, the leadership team of an organization). A typical retreat takes place five consecutive days. It's intense, to be sure, but completely confidential and highly effective.
Vacations are important. We would advise a couple to take one a year—and yes, without the children. Don't give up your vacation this year. Combine it with an investment in yourself, individually or as a couple. Blend your vacation with a Landgraf-led retreat – an expertly guided program of rest, relaxation, reflection, and renewal. Enhance your love relationship, or your personal life, while vacationing in one of the most beautiful places on earth.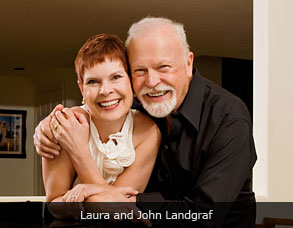 Thank you for the important role you played in my career development. It was so helpful to have the outside view for myself and be so roundly validated.
(A.W., Vancouver, BC)
Thank you both for putting the "train back on the tracks." I love this lady more than life but life got in the way and we went south instead of north. We are both going in the same direction now and it is wonderful.
(P.M., Saratoga, CA)